Music that sounds like the 50s, 60s and 70s
Desperado Surf Club (get a license)
Very authentic Surf Rock Track with twangy lead guitars.


Sweet Sorrow (get a license)
Great 1960s Psychedelic Ballad with a bittersweet vibe.


Coupe Deville (get a license)
Cool-cruising Rockabilly track that's full of swagger.


Psychotrip (get a license)
Uptempo hypnotic psychedelic rock with a 2/2 beat and a British touch.


Bo Groove (get a license)
Early 1950s Rock and Roll/Rhythm and Blues Track with that "Bo Diddley Groove"


Intruder Song (get a license)
Classic Rock with a gallop beat and psychedelic chords.

Licenses available for Film, TV, Games and Commercials.
Special requests for custom-made music welcome.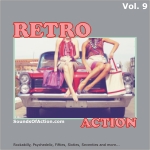 More old-fashioned classic rock music: