Music for sports, award shows and outdoor activities
Lunch Box (get a license)
Hi-Energy Punk Rock with catchy guitars. Great for after-school activities and sports.


Achievement (get a license)
Light, driving Indie Pop with a very catchy and positive string hook.


Popsicle (get a license)
Catchy uptempo indie rock with many changes (forget boredom, right…)


Riot Girl (get a license)
Driving Riot Grrrl Indie Rock with a drum machine, distorted bass guitar riffs and quirky synthesizer melodies.


Dynamix (get a license)
Uptempo Surf-Pop with twangy guitars, moving bassline and scratches


The Champ (get a license)
Triumphant Rock Track with a marching beat and brass fanfares.


Athletic
Driving Pop / R&B with lush Fender Rhodes, cool bass riff and a catchy brass section.


Hey, Hey (get a license)
Bouncy indie rock with a British vibe


Ballgame (get a license)
Very happy uptempo Pop-Rock with a light Punk vibe.


Double Wipeout (get a license)
Fast Surf Rock with twangy guitars and driving bass drum in eight notes


Sports Freak (get a license)
Active Modern Rock with quirky synth hookline and calm middle section


Top Dog Skater (get a license)
Modern midtempo Skater Rock with wild tremolo guitars and hypnotic chords


March Of The Winner (get a license)
80s styled Rock with fanfares and marching drums


Retro Sportscast (get a license)
Typical 1980s Sports Theme with keyboards and guitar melodies


Crazed And Dazed (get a license)
Uptempo Alternative Rock / Grunge Track with heavy guitars, bouncy drums and thrilling lead guitar fills.

Licenses available for Film, TV, Games and Commercials.
Special requests for custom-made music welcome.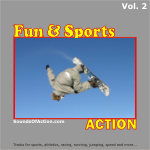 More activity music:
Fighting Action (hold on to your seat!)