Authentic music to bang your head to – and to underscore action with
Metal Impact (get a license)
Fierce Heavy Metal with elements of Thrash Metal, fast guitar riffs, double-bass rhythms and loads of attitude.


Ramstein Base (get a license)
Dark midtempo Industrial Metal with heavy guitar riffs, a distinctive synth bass and various synth melodies, drops and rises.


Fast Pace Metal (get a license)
Uptempo Heavy Metal track with powerful guitar riffs and screaming tremolo-picked guitar rises that implicate speed.


Vi-O-Lence (get a license)
Great Heavy Metal entrance music for wrestlers and other fighters.


Headbanger (get a license)
Classic Heavy Metal with rattling double-bass drums and low-tuned guitars.


Hypersonic (get a license)
Very fast Heavy Metal track that says only one word: speed.


Persian Tank (get a license)
Midtempo Heavy Metal track with oriental lead melodies played with a sitar-like sound.


Get Rowdy (get a license)
Driving powerful Heavy Metal track with forceful guitars, wild leads and a blast beat middle section.


Adrenaline Surge (get a license)
Fast and furious Heavy Metal with wild riffs and even wilder lead guitars.


Lynch 'Em (get a license)
80s Heavy Metal with phrygian guitar riffs and exotic lead melodies played over a non-stop double bass rhythm.


Finishing Move (get a license)
Midtempo Industrial Rock / Metal with dark guitar riffs and a busy beat.


Giant Stalker (get a license)
Dark, clumsy Death Metal with low-tuned guitars and haunting strings.

Licenses available for Film, TV, Games and Commercials.
Special requests for custom-made music welcome.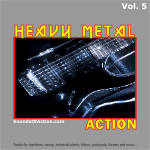 Yet more Hard & Heavy music: