Brothers and Sisters – please bang your head:
Supremacy (get a license)
Massive Action Hybrid Industrial Rock with heavy accents that builds into a headbanging frenzy.

Climax (get a license)
This is f***ing hard pounding trailer music that builds up to a Heavy Metal piece with hard hitting  percussive accents.
Use this for action trailers that include fighting, vehicles, machinery – and a little mystery.
Also really cool for Extreme Sports intros… You bet !!!

Housebreaker (get a license)
Powerful mid-tempo Industrial Rock / Metal with a variety of riffs, accents, full-on parts and breakdown sections.

Snake Shake (get a license)
Industrial / Hip Hop / Rock Hybrid with hard hitting beats, pulsating synths and powerful guitars. A great choice for action trailers, crime in progress and dark urban scenes.

Battle Royal (get a license)
Bone-crushing mid-tempo Heavy Metal track with low-tuned guitars and hard-hitting drums.

Licenses available for Film, TV, Games and Commercials.
Special requests for custom-made music welcome.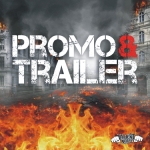 More high-velocity music: