Music that sounds like the 50s, 60s and 70s
Retro Surfer Junkie (get a license)
Twangy 60s surfer rock with a latin touch in the vein of Dick Dale and Duane Eddy.


Joyful Sadness (get a license)
Slow to midtempo psychedelic rock with a twangy theme and fuzzy leads.


57 Chevy (get a license)
Cool-cruising Rockabilly track full of swagger.


Psychedelic Stones (get a license)
Uptempo hypnotic psychedelic rock with a British touch.


Little Bo Jive (get a license)
Midtempo 50s-styled Bo Diddley groove with a sinister mood.

Licenses available for Film, TV, Games and Commercials.
Special requests for custom-made music welcome.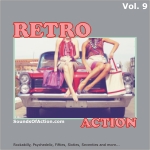 More old-fashioned classic rock music: