Music to crash cars to – and watch them race before…
Cut To The Chase (get a license)
Fast-paced, restless Hard Rock with loud guitars and a restless drum beat that reflects velocity, speed and skill. A must for racing scenes.


Speed Riot (get a license)
Very fast double-bass driven industrial metal with several wild guitar riffs. A perfect match for extreme sports, racing, chases, car crashes and highlight reels.


Drive It To Ya (get a license)
Powerful industrial rock with a steady driving beat, several heavy guitar riffs and a "low" middle and end section minus guitars.


Fast Pace Metal (get a license)
Uptempo Heavy Metal track with powerful guitar riffs and screaming tremolo-picked guitar rises that implicate speed.


Get Rowdy (get a license)
Driving powerful Heavy Metal track with forceful guitars, wild leads and a blast beat middle section.


Adrenaline Surge (get a license)
Fast and furious Heavy Metal with wild riffs and even wilder lead guitars.


Final Lap (get a license)
Uptempo modern Rock track with flat 5th riffs and siren-like lead guitar fills.


Spicy Race (get a license)
Uptempo Hard Rock / Heavy Metal with steadily pounding drums and pushing guitar riffs, topped by speed-picked lead guitars.


Stock Car Nerd (get a license)
Uptempo (Hard) Rock with virtuoso lead guitars and a driving beat.


Beast Jam (get a license)
Midtempo Hard Rock with a very steady beat and powerful rock guitar chords. A great one for monster trucks.

Licenses available for Film, TV, Games and Commercials.
Special requests for custom-made music welcome.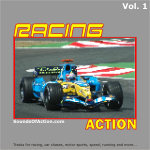 More high-velocity music: