Music to enjoy life with and think of peace and love
Kiddie Club Shuffle (get a license)
Catchy uptempo track, perfect for Kid's TV themes.


Sunshine Feeling (get a license)
Latin-Pop-Reggae played on acoustic guitars.


Walk On The Shore (get a license)
Dreamy all-acoustic pop track with sweet melodies. No drums.


Naturally Happy (get a license)
Bouncy, shaky acoustic pop. Guitars and nice melodies.


Peace Of Mind (get a license)
Dreamy, rhythmical acoustic pop with sweet guitar melodies. .


Couture And Champagne (get a license)
Uptempo Alternative Pop with striking piano riffs.

Licenses available for Film, TV, Games and Commercials.
Special requests for custom-made music welcome.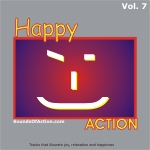 A few more happy tracks can be found in these albums: